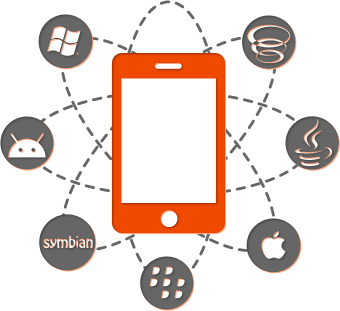 Enterprise Mobility Management (EMM) is the set of people, processes and technology focused on managing the increasing alignment of mobile devices, wireless networks, and related services to enable broad use of mobile computing in a business context. This is an emerging discipline within the enterprise that has become increasingly important over the past few years as more workers have bought smartphone and tablet computing devices and have sought support for using these devices in the workplace.
Mobility has been accepted as the most disruptive technology innovation faced by enterprises today. In the past few years, mobile devices have grown from just providing enterprise email and data on the move, to introducing applications and services that have the potential to change the way companies do their business. Mobility can help companies leverage contextual data to reach out to their customers more effectively.
We, Famocom Technology Systems Pvt. Ltd. have the full expertise on the following Enterprise Mobility Systems. We are capable both developing and maintenance the software/app developed using these technologies.

Android's application framework lets you create extremely rich and innovative apps using a set of reusable components for Android Mobile.

The iOS is a software development kit developed by Apple Inc, the framework Supports to create new application for IPhone or IPad.

We develop powerful applications based on Microsoft Windows Mobile platform. Our vast Windows technology expertise ensures delivering high quality mobile applications.

We offer Symbian OS Application development services under all Symbian Platforms like S40, S60, S80, S90 and UIQ. Our team of experienced Symbian app developers are highly-qualified people who can develop, port and test any Symbian-based mobile applications under all Symbian platforms.

At Famocom we use J2ME for mobile application development. J2ME, that is Java 2 Micro Edition, brings the cross-platform functionality of the Java language to smaller devices, allowing mobile wireless devices to share applications.

BlackBerry is an open platform that provides a variety of development languages and run times designed to fit the requirement on Blackberry Mobile.